Thaisuki Ninhonto Swords Currently Available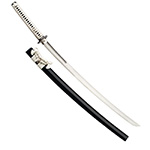 Excalibur Brothers has recently received a new shipment of Thaitsuki Nihonto swords. These highly sought after swords are often available only on a pre-order basis as usually the number of swords received are not enough to fill existing backorders and often times can take 3-6 months to receive from the time of order.
Fortunately this last shipment left us with a few to put on the shelf. If you've been looking for a KTN3 Hoso Kumiage Katana, KTN4 Kumori Katana or KTN5 Sokueto Hondachi Katana now is your chance to order one and not have to wait the usual 3 to 6 months it can normally take to fill your order.
These swords are fully functional and forged in the Yamato Nihonto tradition making it a durable, flexible and extremely sharp blade. While these are a high end swords they make an excellent addition to any sword enthusiasts collection.
Make sure to order yours today while supplies last as it may a while before we have an excess supply like this again.