---
---
---
Premium Quality Leather with Microfiber Polishing Cloth and Soft Pouch , Eyeglass Case Slip In with Flap best for Reading Glasses and Ideal Gift for Men.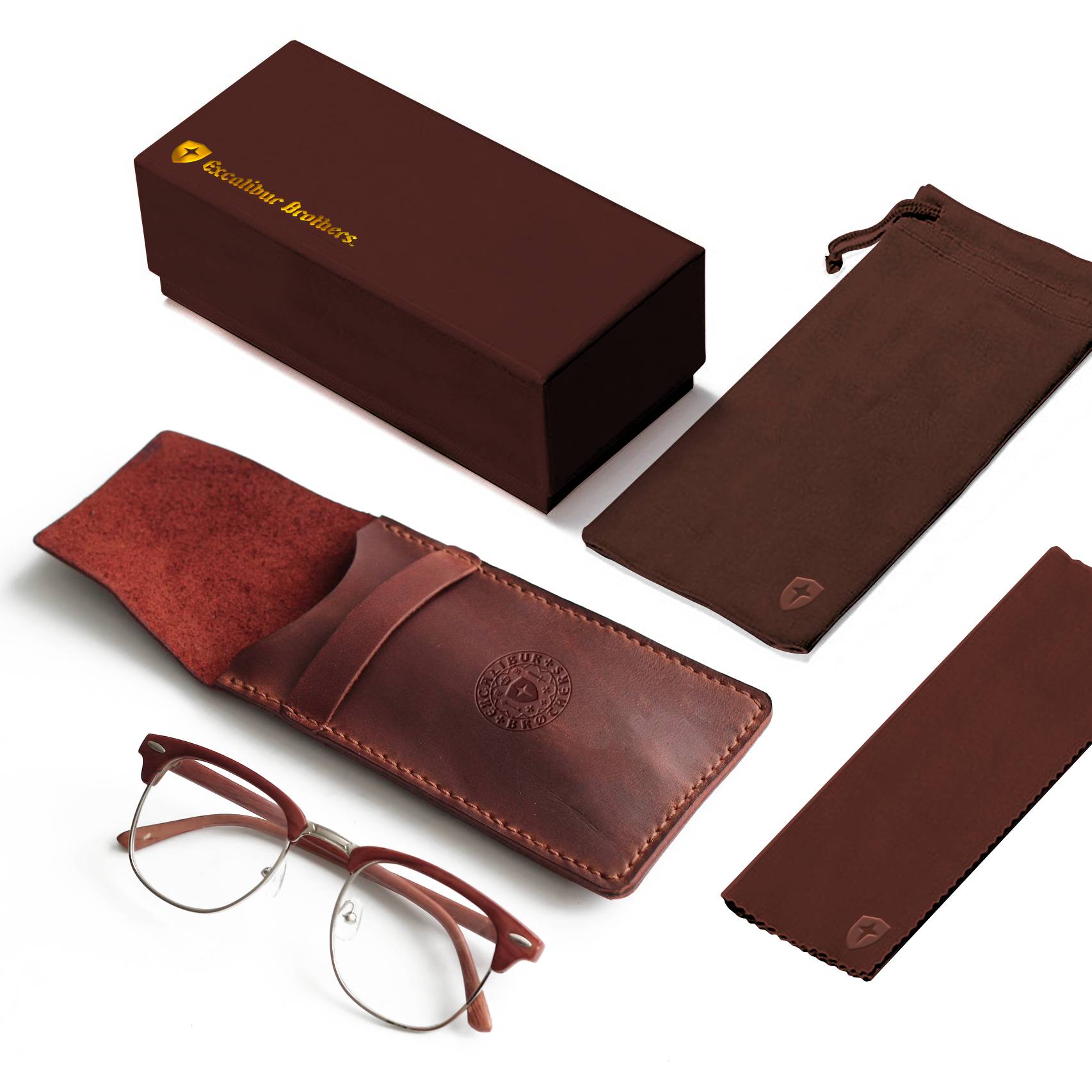 MADE WITH BEST QUALITY FULL-GRAIN LEATHER

Crafted with 100% premium quality leather, sewed finely by hand. Wrinkle-free and scratch-proof. Long-Lasting, durable, fadeless, and strongly resistant to hot and cold temperatures.

PORTABLE COMPRESSION FUNCTION

Has an optimal dimension of 6 1/2″ (Length) X 3″ (Width) X 1 3/4″ (Height). Very lightweight and fits perfectly in your bag, purse, and pocket.

VERY EASY & QUICK TO USE

No need to exert any effort to open a lock or button. Simply slip the reading glasses to take it in and out quick, hassle-free, and conveniently.

EMBEDDED WITH MICROFIBER LINING AND POLISHING CLOTH

Designed with a soft microfiber lining interior which provides optimal protection against scratches, dents, drops, or bumps.

CLASSY & ELEGANT

This chocolate brown rustic case will definitely blend and match your everyday fashion. Bring out the extraordinary style in you. Be classy, be stylish, be fancy.

IDEAL GIFT

Comes with a pouch and classical box giving you novelty and opulent vibes. This may also serve as an excellent and long-lasting present for your boss, officemates, family, and friends.

REPLACEMENT GUARANTEE

Your satisfaction is a must. If by any chance the item is broken, scratched, or defective, please contact us by Amazon Message System, and we will offer you a full refund or a new set.
Tired of constantly searching for your eyeglasses you keep misplacing?
Never lose them again.
Excalibur Brother's eyeglasses case is now here to help you. Organize your glasses in the most stylish and elegant way.
MADE WITH THE BEST QUALITY FULL-GRAIN LEATHER. Unlike other leather which smells rubbery, this full-grain premium leather smells fantastic and has a delicate touch. Meticulously crafted by artisans, it was built to last long.
In fact, you don't even need to get afraid of folding or accidentally gouging this case for it is WRINKLE-FREE & SCRATCH-PROOF. Also very durable, fadeless, and made to be strongly resistant to hot and cold temperatures.
Another perk to consider is that this case can serve as your TINY TRAVEL BUDDY since it's compact in size, very handy, lightweight, and convenient. Can perfectly fit in your backpack, purse, and pocket. #hassle-free and #CAREFREE!
Look hot with your cool specs! Match your favorite eyeglasses with a rustic design case like no other. Bring out the extraordinary style in you. Pretty sure that showing off this little buddy will make you look more stylish and sophisticated than ever.
You can also share this pleasure with your special someone. The Excalibur reading glass case COMES WITH A POUCH AND CLASSICAL GIFT giving you novelty and opulent vibes. There is no doubt that your boss, your husband, bestie and boyfriend will definitely love this!
What are you waiting for? Hurry! Surprise them and grab yours now!