Shot Glass Sets (Set of 6)
---
---
---
Bamboo Shot Glass Holder with 1 Oz Glasses , Lead Free and Cool Shot Glasses Set for Father, Grandfather, Boyfriend, Best Man, and Groomsmen.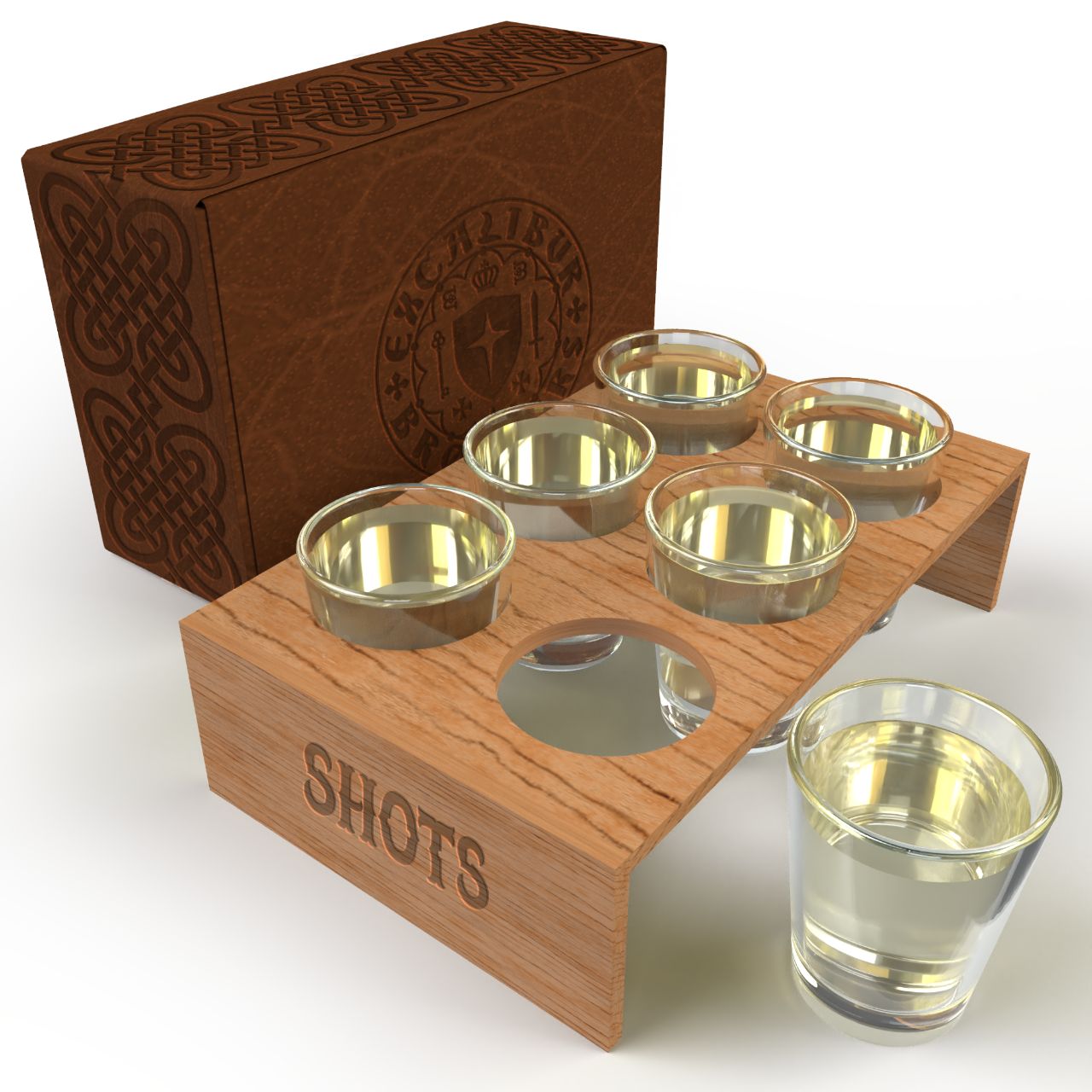 SOPHISTICATED

The Excalibur Brothers shot glass set collection is unique. Rim gold plated with a touch of a Gothic-inspired design that will surely make a long-lasting impression to any of your guests.

LEAD-FREE

Your safety is our priority. This set is only made of high-grade crystal glass which is both cadmium and lead-free. It easy to hold with every piece well-crafted to ensure durability and safety.

VERSATILE

Shoot a shot of every drink you love wherever you are! Whether it's tequila, vodka, whiskey, soju, or rum, this classic serving accessory contributes a very fancy detail to one's cozy home café, bar, & resort.

CONVENIENT

Make the most out of your shot! This product comes with a handy box which you can take everywhere. Whether you're on a beach, camping, hiking, or just having a fun picnic with family and friends.

DELUXE GIFT SET

Spoil a loved one with this stunning gift idea! Perfect for every occasion such as birthday parties, office events, thanksgiving, father's day, weddings and Christmas.

REPLACEMENT GUARANTEE

Your satisfaction is a must. If by any chance the item is broken, scratched, or defective, please contact us by Amazon Message System, and we will offer you a full refund or a new set.
Ain't no thrilling party without rousing shots!
Spoil yourself, embrace your love for luxury, and enjoy shots of your favorite drink with this stunning, mind-blowing, lead-free Excalibur Brothers shot glass set.
No one's up for boring drinks. We're too lit for that!
Impress your guests with our …
6 HIGH-QUALITY LUSTROUS GLASS SET. They are thick, heavy, and rim gold plated, plus they're sculpted with a fine Gothic-inspired theme. The rugged texture makes it very easy to hold. No tipping, no spilling, and not even prone into cracking. This set is truly made for your own pleasure and comfort because YOU are important to us.
The glass set is also elegantly displayed together with a MAHOGANY WOOD BASE TRAY with a GOLD ACCENT that adds a touch of class. Why stay dull and plain if you have the option of adding an opulent taste and modish design in your own home bar? If so, get ready to receive loads of compliments on how great your sense of art is!
Thinking of a PERFECT & UNUSUAL GIFT FOR HIM OR HER? We got you covered! The E.B. set also comes up with our thick branded gorgeous GIFT BOX. All glassware is well-protected with foam inside so no worries about carrying it.
Reward a family achiever, acknowledge a friend's triumphs, say I love you on Valentine's Day or parent's anniversary, or spice up a birthday party. Show how much you care by spoiling your loved one with this sophisticated and ULTIMATE GIFT SET.
Go take your party to the next level! Give it a SHOT!
Be bold, be extraordinary, be fancy. Raise a toast on every occasion with the Excalibur shot glass set! Shop now.