Best Katana Samurai Swords of 2021
Katana samurai swords are an item that many people collect. It has grown in the public's popular psyche due to the various movies and television shows depicting samurais.
Collecting katanas or samurai swords will not only make great decorative pieces to a home, but also help the buyer keep in mind the values of the samurai.
The best katana samurai swords of 2021 are made by many brands and come in a variety of styles. These swords do not come cheap. Like anything, it is important to find the best quality katanas so collectors can get their money's worth.
Let's check out the best katanas and samurai swords in today's market and where you can buy them.
Where to Buy the Best Katanas and Samurai Swords in 2021
Hanwei Sword Shop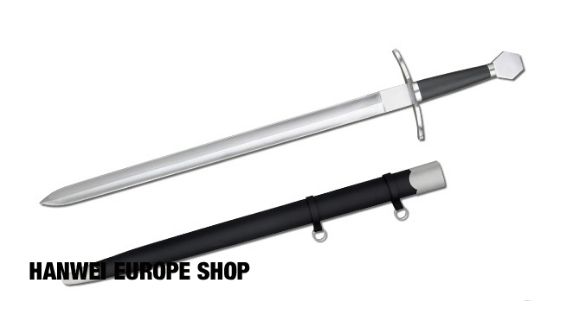 One of the best sword shops that you can turn to for your needs is the Hanwei Sword Shop. This sword shop is located in Europe and specializes in Japanese martial arts equipment for practical use and collecting as well.
A great katana to pick up from this shop is the Hanwei Practical Plus Katana. It has been designed to meet the needs of today's practical martial artist but still maintains its authenticity as being based on an ancient samurai sword design.
This katana features fittings that have been cast out of zinc alloy which helps keep it lightweight while maintaining durability and balance; this sword also comes with a blade that is hand forged from 1060 high-carbon steel so that it will hold a sharp edge for years to come.
Those who are looking for katana samurai swords that have an authentic feel but also want some practical features in their katanas may want to consider the Hanwei Practical Plus Katana which has been created with these goals in mind.
The Hanwei Practical Plus Katana is only one out of a good number of katanas you can get from this shop. Head on over to their website to check out the other katanas.
The price range for the swords at the Hanwei Sword Shop can go anywhere from €300 to €1,200.
Musashi Swords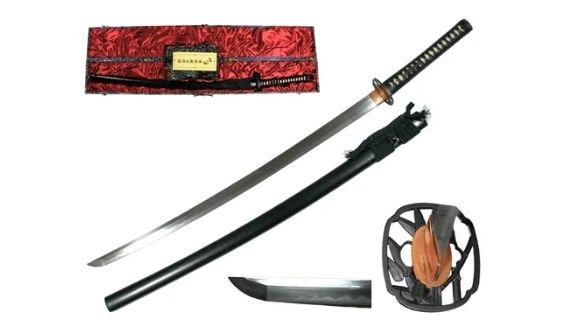 If the Japanese tradition of creating katanas and samurai swords is just as important as the sword themselves, then Musashi Swords is the shop for you.
If you are an avid sword collector or a fan of Japanese culture, then you know the significance of the name "Musashi".
Musashi Swords makes sure that the swords they sell carry with them the timeless culture and tradition of creating katanas throughout the years. The ancient techniques developed for years in Japan are being applied to each and every sword at Musashi Swords.
If you are looking for one specific sword from their catalogue, check out the Musashi Umigame Katana. This katana belongs to the Musashi Gold Collection.
It was forged using traditional swordsmith techniques and using 1045 and 1060 steel. It is 41″ in length, with the blade's hardness at 58HRC. The handle is wrapped in a traditional blue cotton cord.
Apart from the sword itself, the purchase comes with a maintenance kit that you can use to take care of the sword throughout your lifetime. It also comes with a certificate of authenticity which is a great feather in the cap for collectors.
The price range for the collection at Musashi Swords can be anywhere from $90 to $4,000.
Samurai Museum Shop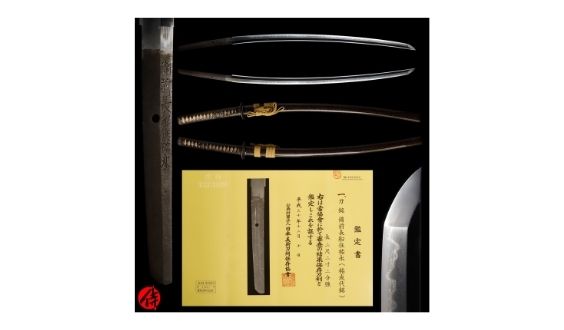 Another fantastic choice to look at is the Samurai Museum Shop. They have been dealing with various Japanese artifacts and weapons since 2015. These include katanas, samurai armor, and other crafts. Their mission is to share the spirit of the samurai with their customers.
The Samurai Museum Shop sells authentic and antique Japanese swords. These can range from $5,000 to a whopping $24,000.
If that isn't in your budget though, they also sell exceptional replica swords that are high in quality and full of Japanese culture. One example is the Heshikiri Hasebe replica of Nobunaga Oda.
The Heshikiri Hasebe is a type of sword that has impressed collectors and even samurais of old. It was created by the swordsmith Hasebe, with Oda being the first to wield this legendary blade. The original Heshikiri Hasebe is now a national treasure.
This replica is 108cm in length. This is comprised of a zinc alloy blade that is 78cm long and a handle that is 30cm. The zinc alloy blade means that there is no edge.
The stingray black handle is wrapped with a lace red thread that looks stunning. Its scabbard is black lacquered hard wood.
There is one thing that sets this replica apart from all the others, and that is the pattern found on the handle. When it was created, it was made with the same intricacy and care as that of authentic katanas.
This replica, and many like it, range from $180 to $350. Check out the Samurai Museum website now.
Choose the Right Katana
After considering all of your katana samurai sword options, you're sure to find one of the best katana samurai swords available on the market today. Choose one that fits your budget and meets your needs as well as your expectations in terms of quality craftsmanship and durability.
Remember that collecting katanas isn't just about having it design your house. It is also about learning about its history and Japans' culture, and putting the same care and maintenance into the sword for years to come.
We hope you continue to collect katanas and enjoy doing so.
You might also wanna check THE JAPANESE WAKIZASHI: A CLOSER LOOK.