Excalibur Brothers Halloween Birthday Sale
Hi I'm Lawrence Piper the owner of Excalibur Brothers.
It's Halloween time, my favorite time of year. Not only because you get to dress up in costume and be someone else. Not only because there is always candy, parties and plenty of festivites. But also because it's my birthday on Halloween.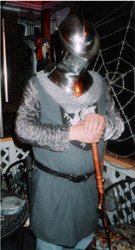 Perhaps you've seen this picture on the home page. This was me a couple of years ago. I used a normal Knight's costume found during Halloween season at one of the specialty costume stores that pop up. But I added one of the 22-9900 Medieval Knight's Helmets, a chainmail coif that has since been discontinued and a 20-9064OL Braveheart Medieval Sword.
This Halloween is even more special because this is my 50th birthday and being a true Hobbit and LOTR fan I want to give everyone who comes to my birthday party a small present in true hobbit fashion. That's right if you buy something now through Halloween October 31, 2012 you will an additional surprise item included with your order automatically. If you spend more than $199 and your order is shipped in the lower 48 states you get free ground shipping as well.
So stop on in, look around, you're sure to find something for your Halloween costume and it's not too early to start thinking about Christmas presents for the knife, sword and medieval enthusiast in your life.
Happy Halloween