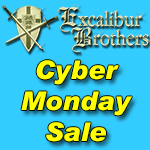 Excalibur Brothers has begun their Cyber Monday Sale a few hours early.
Now through Midnight Eastern Time Monday December 1, 2014 all sword and knives are on sale at incredibly low prices.
We have slashed our prices to levels never before seen in the 11 year history of our company. There's only 3 short weeks left before Christmas. Order now before the last minute rush to ensure delivery of your order in time for Christmas delivery.
Orders placed by Wednesday December 17th are guaranteed to arrive in time for Christmas but you'll only get these incredibly low prices during our Cyber Monday sale!