New Knives From Kit Rae & Gil Hibben
Excalibur Brothers has added several new knives including some from master knife makers Gil Hibben and Kit Rae.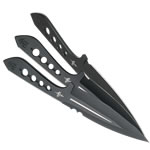 knife sets available. We are excited to announce that Kit Rae not only has a new fantasy knife but being a throwing knife enthusiast for years he has finally ventured into the throwing knife sector with 3 new knife designs and a throwing axe.
You'll also want to check out the new 12 piece set from Master Cutlery that includes a target board to perfect your knife throwing skills.
With big game hunting season upon us it's a good time to buy or replace your hunting knife. Gil Hibben has released a limited edition Damascus steel version of the Eclipse Bowie Knife. I wonder if using it to gut a deer would increase or decrease the collectible value of this knife. There are only 1000 pieces of this design available worldwide. It's a great Christmas gift idea for the hunter and knife collector too.