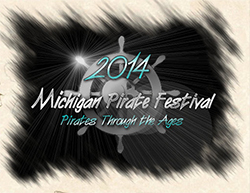 Pirate Festival for 7 days starting Monday August 4th through Sunday the 10th.
The Michigan Pirate Festival has partnered with the Loutit District Library for fun filled week long event throughout the Grand Haven area.
The festival offers a week of fun, entertaining, and educational programs including a discussion series devoted to showing how real pirates lived, played, and plied their trade for good and ill from the Buccaneer Wars to the American Revolution.
Pirate re-enactors sail into Grand Haven's waterfront, fire real cannons and muskets, and wander the streets of the city bringing all of the adventure of the Golden Age of Pirates with them.
I couldn't find a weapons policy on the webpage so it would be best to contact the event planners for information regarding swords and knives. However if you include any pirate swords as part of your costume make sure they are sheathed and peace tied for safety.