Happy Thanksgiving From Excalibur Brothers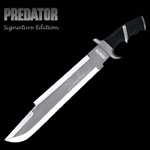 I wanted to wish everyone a Happy Thanksgiving. Excalibur Brothers is running 10% off all in stock items from now through Monday November 26. Plus we have 4 very special items that you can save even more on.
I would like to make a list of things I am thankful for. While I don't have the room or the time to list everything for which I am thankful as there is a whole lot these are a few that I feel top the list.
I am thankful and grateful for:
My wonderful daughters Jessica, Heather and Rebecca
My 8 beautiful and handsome Grandchildren
All my friends both old and new
The visitors and customer of this website
The food that graces my table everyday
The clothes on my back and in my closet
My dependable, reliable van
A new perspective on life and gratitude
A loving and caring God
The Law of Attraction
The Earth which I inhabit
The beauty of nature
My health
Abundance in life of all the things I need and desire
Happy Thanksgiving Everyone. May you have a wonderful Thanksgiving holiday and an abundant & blessed life.
Lawrence Piper